13th/Apr/2018

sometimes, just sometimes, it *is* okay to meet your heroes
I LOVE Dawn French. Like, serious love. I'd probably leave my husband for her. And the dogs. When I was little, my friend Jo Cherry and I would sing 'Cox and Cherry' to the French and Saunders theme tune, and pretend to be them. So if you'd have told me then that I'd have ended up interviewing the great woman herself so often that she now greets me with a big hug, I would have DIED.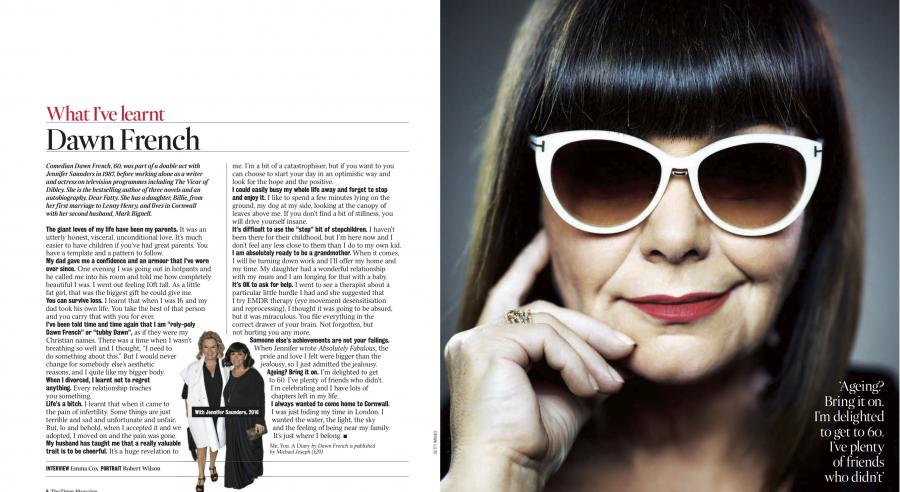 Dawn French in a magazine
They do say 'never meet your heroes'. But luckily, she is everything I hoped for and more. The first time I met her was in Devon, on the set of a new series of Comic Strip. Sometimes, due to lack of time, I have to do group interviews and so it was on this occasion. There were only 20 minutes to get all the interviews done and so we all crammed into one room to talk: me, two other journalists, Dawn, Jennifer Saunders, Ade Edmonson and Peter Richardson. Everyone was VERY chatty and it was very noisy and I could barely get a word in. Every time I tried to ask a question, I was talked over, but lovely Dawn would notice and say, 'Sorry, I didn't catch that, what was your question?'. BLESS. She was so warm and maternal ('maternal' is a word used a lot about Dawn by her co-stars, I've learned over the years).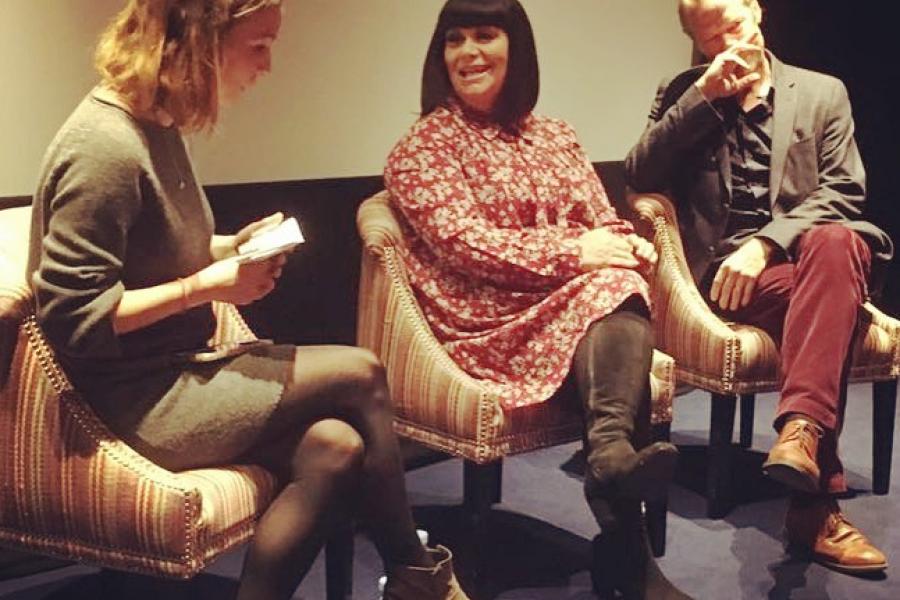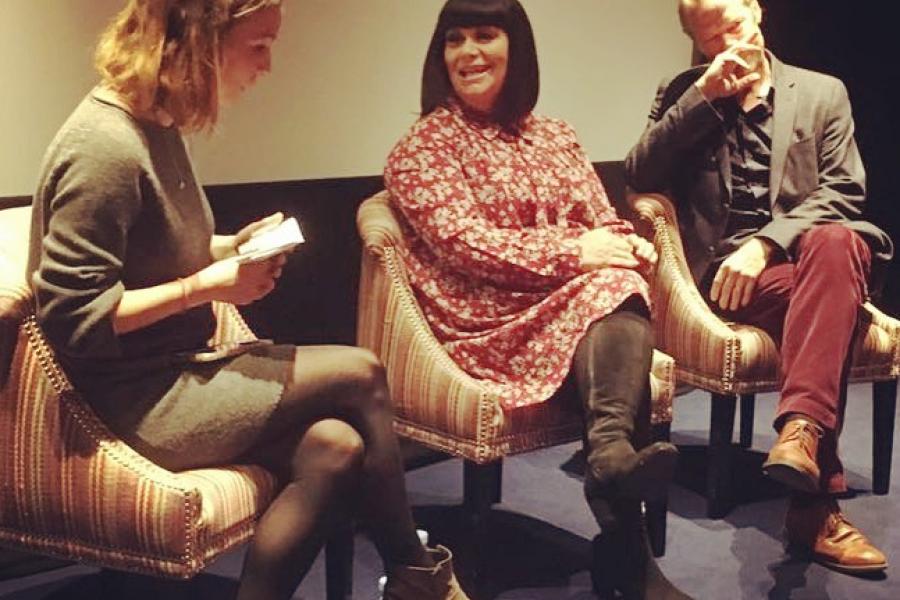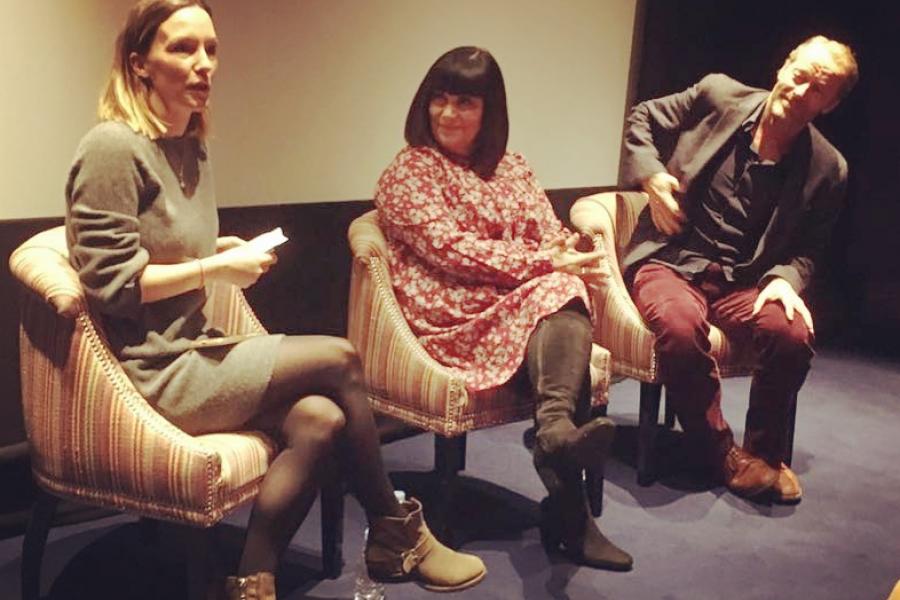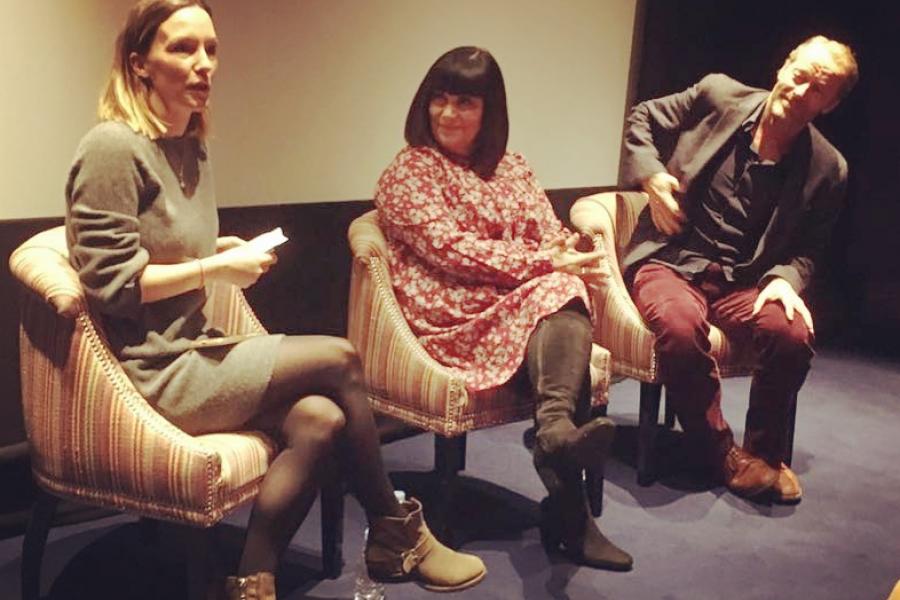 Another shot of Dawn during my interview
Since then, I've interviewed Dawn several times for different TV shows such as her ITV1 talent show Big Little Shots and her Sky1 drama Delicious (the picture here shows me interviewing Dawn and the lovely handsome Iain Glen in front of an audience of journalists at the press launch for series two).
I've also interviewed her about her fantastic book, You Me A Diary (I also really recommend her fiction, such as According To Yes). She has never been anything but a total pleasure.
She even sent me a bunch of flowers once to say thank you - and no celebrity has ever, EVER done that before or since! I still keep the gift card on a picture frame in my office (and yep - that's me with Sir Dave of Attenborough - another old favourite!)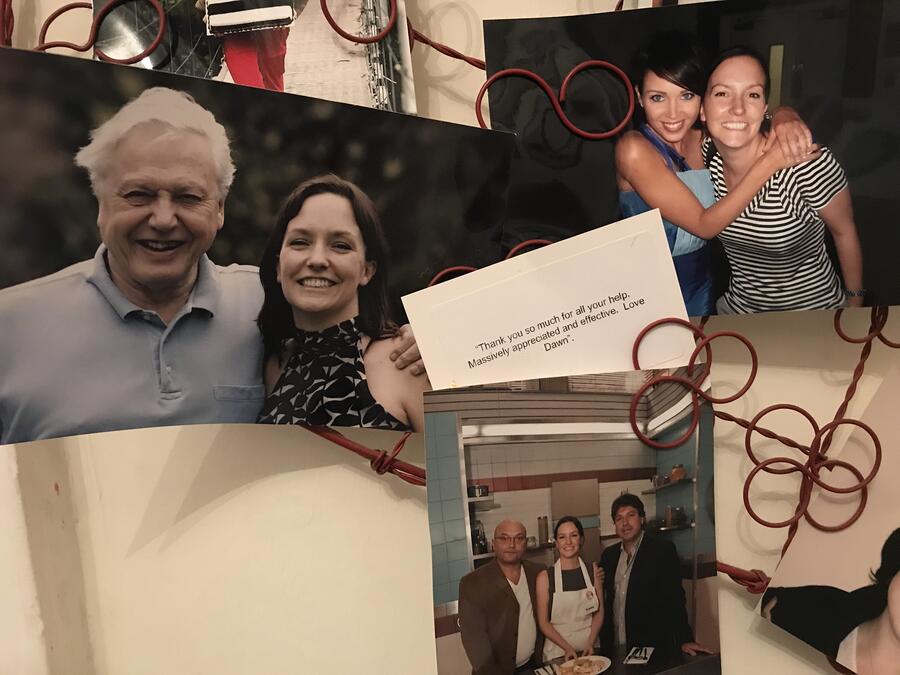 My wall of fame at the office
Now I just need to summon up the courage to interview Dawn and Jennifer together - properly, this time, just the three of us with no other pesky journalists around - and then I really can die happy!
Here's my most recent interview with Dawn, for The Times Magazine, in full:  
Comedian Dawn French, 60, was part of a double act with Jennifer Saunders in 1987, before working alone as a writer and actress on television programmes including The Vicar of Dibley. She is the bestselling author of three novels and an autobiography, Dear Fatty.She has a daughter, Billie, from her first marriage to Lenny Henry, and lives in Cornwall with her second husband, Mark Bignell.
The giant loves of my life have been my parents. It was an utterly honest, visceral, unconditional love. It's much easier to have children if you've had great parents. You have a template and a pattern to follow.
My dad gave me a confidence and an armour that I've worn ever since. One evening I was going out in hotpants and he called me into his room and told me how completely beautiful I was. I went out feeling 10ft tall. As a little fat girl, that was the biggest gift he could give me.
You can survive loss. I learnt that when I was 16 and my dad took his own life. You take the best of that person and you carry that with you for ever. 
I've been told time and time again that I am "roly-poly Dawn French" or "tubby Dawn", as if they were my Christian names. There was a time when I wasn't breathing so well and I thought, "I need to do something about this." But I would never change for somebody else's aesthetic reasons, and I quite like my bigger body. 
When I divorced, I learnt not to regret anything. Every relationship teaches you something. 
Life's a bitch. I learnt that when it came to the pain of infertility. Some things are just terrible and sad and unfortunate and unfair. But, lo and behold, when I accepted it and we adopted, I moved on and the pain was gone. 
My husband has taught me that a really valuable trait is to be cheerful. It's a huge revelation to me. I'm a bit of a catastrophiser, but if you want to you can choose to start your day in an optimistic way and look for the hope and the positive. 
I could easily busy my whole life away and forget to stop and enjoy it.I like to spend a few minutes lying on the ground, my dog at my side, looking at the canopy of leaves above me. If you don't find a bit of stillness, you will drive yourself insane. 
It's difficult to use the "step" bit of stepchildren. I haven't been there for their childhood, but I'm here now and I don't feel any less close to them than I do to my own kid. 
I am absolutely ready to be a grandmother. When it comes, I will be turning down work and I'll offer my home and my time. My daughter had a wonderful relationship with my mum and I am longing for that with a baby.
It's OK to ask for help. I went to see a therapist about a particular little hurdle I had and she suggested that I try EMDR therapy (eye movement desensitisation and reprocessing). I thought it was going to be absurd, but it was miraculous. You file everything in the correct drawer of your brain. Not forgotten, but not hurting you any more.
Someone else's achievements are not your failings. When Jennifer wrote Absolutely Fabulous, the pride and love I felt were bigger than the jealousy, so I just admitted the jealousy.
Ageing? Bring it on. I'm delighted to get to 60. I've plenty of friends who didn't. I'm celebrating and I have lots of chapters left in my life.
I always wanted to come home to Cornwall. I was just biding my time in London. I wanted the water, the light, the sky and the feeling of being near my family. It's just where I belong. 
Me. You. A Diary by Dawn French is published by Michael Joseph (£20)