TALKING to Sarah Lancashire in the flesh is almost nothing like you might expect.
For a start, there's the voice. She's much posher, more softly spoken, more measured than many of the characters she's played. Born in Oldham, there's barely a trace of northern to her accent at all.
Then there's the way she carries herself. She's utterly unstarry, swathed in woollen polo neck, hair tied unfussily on top of her head, cup of tea in hand, slightly slouched in her seat.
But most notably, perhaps, is her lack of grandiosity.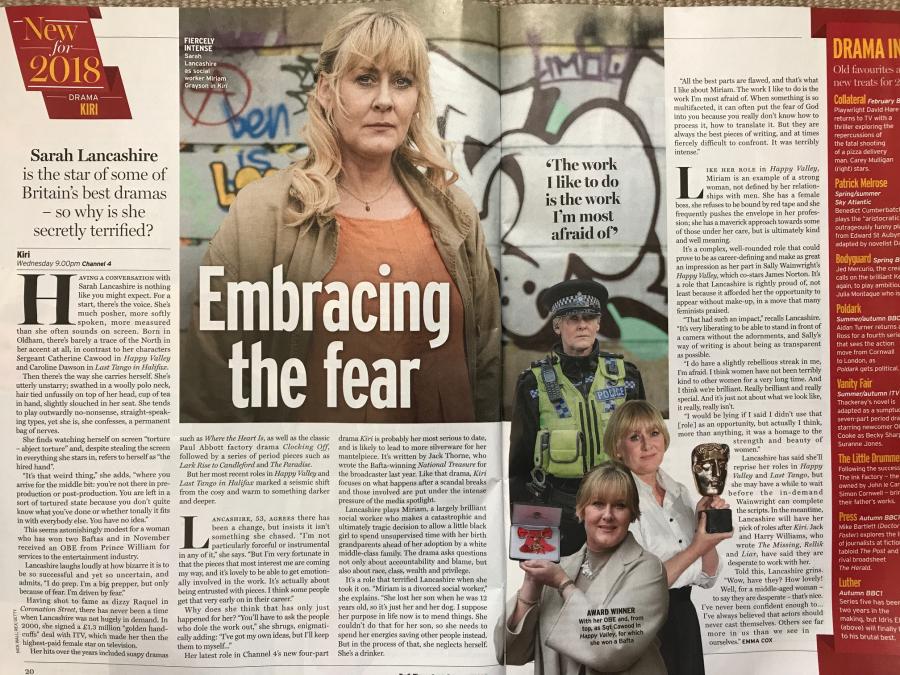 For while many of Lancashire's most successful roles - From Sgt Catherine Cawood in Happy Valley to Caroline Dawson in Last Tango in Halifax - have been outwardly no-nonsense, straight speaking types, the actress behind those personas is, she confesses, a permanent bag of nerves.
She finds watching herself on screen 'torture - abject torture' and adds, 'I don't analyse what I do. I just try and turn up something acceptable.
'I'm not necessarily part of the creative team, I'm the hired hand.
'It's that weird thing where you arrive for the middle bit: you're not there in pre-production, or post-production. You come in and then you go away and are left in a sort of tortured state because you don't quite know what you have done or whether tonally it fits in with everybody else. You have no idea.'
It seems an astonishingly modest line from a woman who has won two BAFTAs and was recently awarded an OBE from Prince William for services to the entertainment industry.
Lancashire laughs loudly in recognition at how bizarre it is to be so successful and yet so uncertain, and admits, 'I do prep. I'm a big prepper, but only because of fear. I'm driven by fear.'
Having shot to fame as dizzy Raquel in Coronation Street, there has never been a time that Lancashire was not hugely in demand.
In 2000, she signed a £1.3million 'golden handcuffs' deal with ITV which made her the highest paid female star on television.
Her hits over the years included soapy dramas such as Where The Heart Is as well as the classic Paul Abbott factory drama Clocking Off, followed by a series of period pieces such as Lark Rise to Candleford and The Paradise.
But her most recent appearances in Happy Valley and Last Tango in Halifax marked a seismic shift from the cosy to something darker and deeper, and she has now successfully transformed into one of our weightiest actresses. 
Lancashire agrees there has been a change; but insists it has not been something she has deliberately been chasing.
'I'm not particularly forceful or instrumental in any of it,' she says. 'But I'm very fortunate in that the pieces that most interest me are coming my way, and it's lovely.
'I'm now in a fortunate position to be able to be emotionally involved in the work that I do. 
'You do have to waste a certain amount of time before you're… it's actually about being entrusted with pieces. I think some people get that very early on in their career.'
And why has that only just happened for her, does she think?
'You'll have to ask the people who dole the work out,' she shrugs. 'I've got my own ideas, but I'll keep them to myself.'
Her latest role in Channel 4's new four-part drama Kiri is probably her most serious to date, and is more than likely to lead to more silverware for her mantlepiece.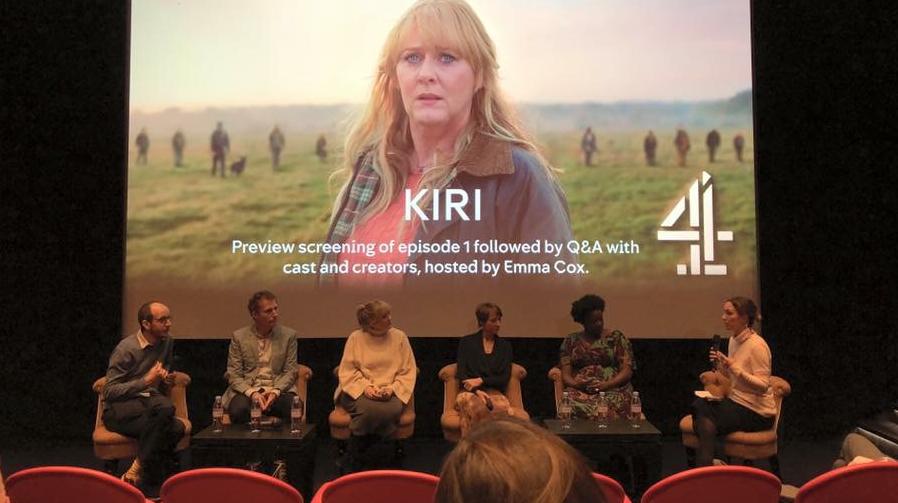 It's written by Jack Thorne, who wrote BAFTA-winning National Treasure for the broadcaster last year, about a former entertainer (played by Robbie Coltrane) who is accused of historic sex crimes. Like that drama, Kiri is also focussed on what happens when a scandal breaks and those involved in the story are put under the intense pressure of the media spotlight.
Lancashire plays Miriam, a well-meaning and largely brilliant social worker who makes a catastrophic and ultimately tragic decision to allow a little black girl to spend unsupervised time with her birth grandparents ahead of her adoption by a white middle class family. 
The drama throws up questions not only about accountability and blame but about race, class, wealth, and privilege.
It's a role that terrified Lancashire when she took it on.
She says, 'Miriam is a divorced social worker. She lost her son when he was about 12 years old so it's just her and her dog making their way through life.
'I suppose her purpose in life now is to mend things. She couldn't do that for her son, so she needs to spend her energies saving other people instead.
'But in the process of that, she neglects herself. She's a drinker. All the best parts are flawed, but that's what I like about her. 
The work I like to do is the work I'm most afraid of. Because it's so multifaceted and that can often put the fear of God into you because you really don't know how to process it, how to translate it. 
'But they are always the best pieces of writing, and at times fiercely difficult to confront. It was terribly intense.'
Like her role in Happy Valley, Miriam is an example of a strong woman, not defined by her relationships with men. She has a female boss; she refuses to be bound by red tape and she frequently pushes the envelope in her profession; she has a maverick approach towards some of those under the care, but is ultimately kind and well meaning. 
Miriam is far from glamorous: one scene has her drunkenly throwing up and collapsing, while another close-up on her face at the moment of Kiri's death is affecting in its lack of vanity.
It's a complex, well-rounded role that could prove to be as impactful and career defining as the Sally Wainwright-penned Happy Valley all over again: a role that Lancashire is rightly proud of, not least because it afforded her the opportunity to appear make-up free in a move that many feminists praised.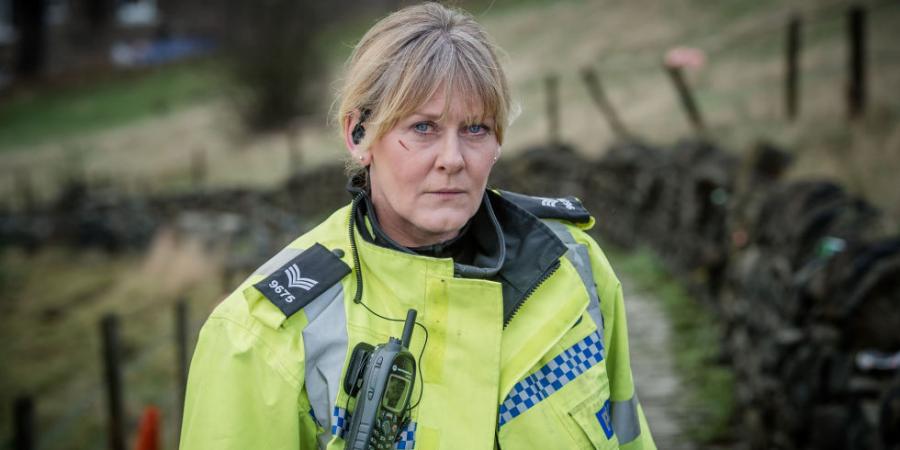 Says Lancashire, 'That had such an impact. It's very liberating to be able to stand in front of a camera without the adornments, and Sally's way of writing is about being as transparent as possible. 
'I do think I do have a slightly rebellious streak in me, I'm afraid. 
'I think women have not been terribly kind to other women for a very long time. And I think they're brilliant. Really brilliant and really special. And it's just not about what we look like, it really, really isn't. 
'And I would be lying if I said I didn't use that as an opportunity, but actually I think, more than anything, I think it is a homage to the strength and beauty of women.'
What's next for Lancashire is as yet unknown but it seems likely she will have her pick of roles after Kiri.
Jack and Harry Williams, who wrote The Missing, Liar and Rellik, have said they are desperate to work with her.
On being told, Lancashire grins, 'Wow, have they? How lovely! Well, for a middle-aged woman, to say they are desperate, that's nice. How lovely! 
'I've never been confident enough to… Actually, this is weird, I did say to my agent this year, 'When is a Jack Thorne piece going to turn up?'. And it did turn up. But I've always believed actors should never cast themselves. Others see far more in us than we see in ourselves. It's nice to be wanted when somebody offers you a job. But I don't wish for more than that.'