Stephen Mangan has long been one of my favourite comedians – since his days on Green Wing, in fact (I'm not sure there's been a better TV bromance than him and Julian Rhind Tutt). 
So it was my absolute honour to host the Q&A for his new comedy, Hang Ups, at the prestigious BAFTA HQ, no less.
The Channel 4 show is based loosely on a Lisa Kudrow series called Web Therapy. Which is an interesting connection because of course in BBC2's Extras, Stephen stars opposite Lisa's ex-Friends co-star Matt Le Blanc.
But anyway, back to Hang Ups, which is a very busy, buzzy, celebrity-packed sitcom in which the 'sit' is Stephen's character Richard being a virtual therapist, dishing out advice over Skype to a variety of clients while struggling with debt and a hectic family life.
The clever thing that sets Hang Ups apart from other comedies is that a lot of the action is filmed as if through Skype or FaceTime, so the characters are talking directly into camera. 
It reminds me a bit of Peep Show in that sense – although that's where the similarities end.
Interestingly, Stephen's wife Louise Delamere is the exec producer on the show and her brother Robert is the director. Apparently there was a bit of sibling bickering on set but largely they all managed to make it an enjoyable process and not completely fall out with each other...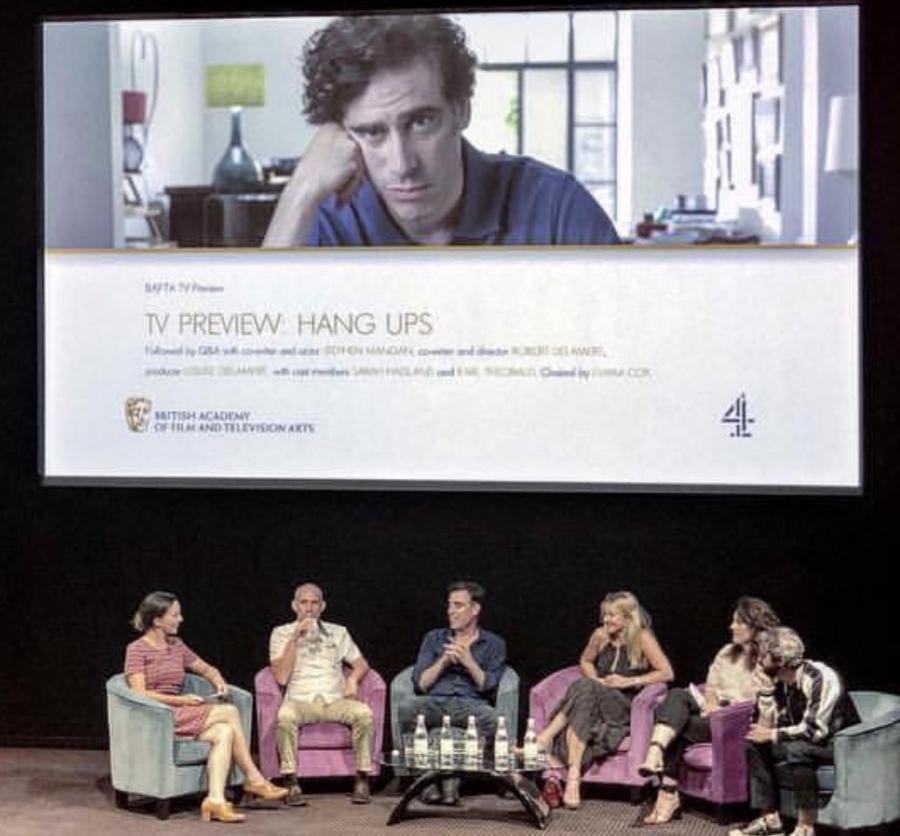 Emma Cox hosting the BAFTA Q&A at the launch of Channel 4 drama Hang Ups starring Stephen Mangan and Sarah Hadland
The cast is incredible: Sarah Hadland and Karl Theobald (another Green Wing alumnus!) are both regulars and they joined me on the panel along with Stephen, Louise and Robert. Other regular cast include Richard E Grant, Celia Imrie, Jessica Hynes, and David Tennant.
The best bit of the whole evening – I got to meet David Tennant, who wasn't even on the panel but turned up to support his mate and was hanging around the Green Room before and after the Q&A.
I'm delighted to report that he is INCREDIBLY nice. And definitely on my wish list of celebs I haven't interviewed yet.
Although hopefully next time we meet it won't be on the hottest day of the year and I won't have sweat dripping off me like I did last night...